Tell Me a Story
This short story collection from 2016 has it all – humor, drama, excitement, romance, adventure… would you like me to tell you a story?
Look at the fantastic reviews this treasury is garnering!
"Tell Me a Story" is a highly entertaining collection of wonderfully quirky short stories. The anthology is quite addictive… the first eight stories had me frequently giggling or sitting back admiring the author's ability to create unusual plot twists. Pearson has a real knack for making characters come alive – and putting them in strange but believable situations. Ray Walsh for Lansing State Journal – Read full review here.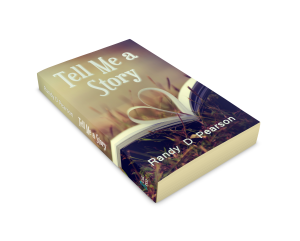 Kudos to Randy Pearson for his fine collection of works in Tell Me A Story.  Sometimes wonderfully funny, sometimes sad, sometimes a little bit scary, Pearson's voice shines in each story offering.  A book to savor.  — Author Judith Wade


–

I just finished reading Tell Me a Story… WOW!!! Impressive! I thoroughly enjoyed the book!  Kept telling myself one more story and I will stop reading for the night but that didn't happen.  I wanted to keep reading!!  Great job! — Proof reader P. Bollier
I greatly enjoyed this delightful collection of short stories. Every story was interesting and offered something different–sometimes sweetness, silliness, maybe some scares or laughs. It was a fun little surprise to see what I was going to read next. — Amazon Customer
Tell Me a Story is available on Amazon and at book stores everywhere. For a list of confirmed retail locations in the Mid-Michigan area, click here.
To purchase a signed and personalized copy directly from the author, click here.
Did you know books can have trailers like movies? Well, they can, and here's Tell Me a Story's trailer!