Driving Crazy
Jay Naylor thought winning the Crazy Climber auction would be the hard part. Man, was he ever wrong!
With his best friend Austin Ridenour by his side, Jay takes to the streets in this wild, hilarious adventure. During their journey from Lansing, Michigan to Weedpatch, California and beyond, they'll run headlong into adversity, desperation and their fair share of lunatics. They'll need every ounce of their luck and ingenuity if they hope to get this classic arcade game, and themselves, home in one piece.
Our heroes would rather spend their time seeing the sights, but they can't. They're too busy… Driving Crazy.
---
Read / Hear Driving Crazy Excerpts and Deleted Scenes!
Watch me Driving Crazy on YouTube/Listen to me on Spotify
Want a copy of Driving Crazy?
Buy at one of the local (Mid-Michigan) retailers
Buy here with PayPal and receive a personalized signed copy
—————————————–
"Driving Crazy … is an unusual, entertaining debut novel by a highly talented writer." — Ray Walsh, Lansing State Journal
"Entertaining and witty, Driving Crazy is (an) enjoyable work of fiction." — Retro Gamer Magazine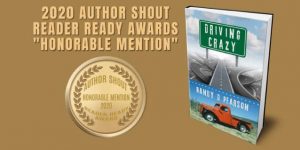 "I picked it up last night and … stayed up until 2:30 AM to finish it. Once you start it, you can't put it down. At multiple times throughout the book I found myself laughing out loud." — Brian Fullmer, AtariAge.com