Trac Brothers I Synopsis
This can technically be considered a deleted scene – I was originally going to include this at the beginning of Trac Brothers II, but decided against it. 
Previously in Trac Brothers…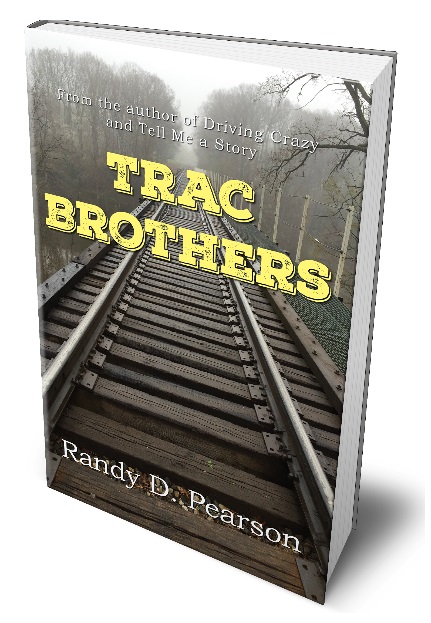 Benjamin "Jam" Trachsel and Jackson "Jax" Trachsel receive a strange inheritance from their recently departed Uncle Mac – a fully functioning 19th century handcar. When they find themselves stranded over 150 miles from home, they decide to put the handcar on the train tracks.
While moving the handcar, they find a hand drawn map their uncle left them. Instead of pumping back home to Lansing, Michigan, they follow it north toward the former rail town of Walton Junction.
When they arrive in the area, the brothers find themselves embroiled in a rivalry between two groups of eccentrics who use the train tracks to move around the area.
The bizarre but friendly Rail Riders live in the two-square-mile section of Walton Junction where three sets of train tracks meet to form a triangle. They use pedal or pump-style handcars to navigate the train tracks in and around Fife Lake.
The opposing group, a ruthless gang called the Track Pirates, steals items off passing trains with their motorized track vehicles. Their Pirate King, the vicious Noman Santascoy, had a history with Uncle Mac. Not only did he steal away Mac's first wife Joselle Haberman, he may have murdered Mac, though no one has any proof.
Santascoy manages to steal an entire autorack, a train car full of high-end vehicles. He believes this score will catapult him and his gang into the big times. He even has a mob-connected buyer lined up.
However, Uncle Mac finds out about this score. Knowing the evil a fully-funded Santascoy could inflict on the area, he steals the train car from Santascoy and hides it in an abandoned mine.
After Mac's death, Santascoy kidnaps Mac's girlfriend Clare and her daughter Lianne, locking them in a cage at the Pirates' Lair. He interrogates them in an attempt to discover the location of the hidden autorack.
Jam and Jax free the women and bring them back to the Riders' camp. Continuing their uncle's work, they find the autorack and start driving it to the train depot in Cadillac, Michigan. Here they intend to deliver it to the proper authorities.
While the brothers head toward Cadillac, the Pirates return to the Riders' camp. While trying to locate his autorack, Santascoy shoots and kills a Rider named Trent. As the Pirates leave to retrieve their ill-gotten booty, Santascoy tasks a young Pirate named Darrel Edison with killing Trent's partner Barrett. Though eager to please, Edison does not have the fortitude to murder the Rider. Instead, he takes his Velocipede, a single rider track vehicle, and heads north, away from the train depot.
After a huge battle ensues at the train depot, the police arrive and arrest the majority of the Track Pirates. Santascoy, however, hops on a Velocipede and races away. Jam and Jax give chase using one of the Pirates' vehicles, each heading north on their own set of train tracks.
As the brothers catch up, a locomotive rounds the bend heading toward them. Unsure which set of tracks this train is on, Jam and Jax leap off their ride. Santascoy, however, remains on his and is struck head-on by the train. He rolls, blood-soaked, into a ditch.
While the Trachsel brothers' adventure continues in the first book, Santascoy's story seemingly ends here.
But of course, it does not.
Now, Trac Brothers II – Santascoy's Revenge