Driving Crazy – Reviews
Review from comedian and professional comedy producer/booker John Face:
Well I am not much of a reader. Last fall I purchased a book from author Randy Pearson and read a few chapters. Life got in my way until yesterday I picked up the book and started reading it again.
I can honestly tell you that I loved this book. Funny, well written and in just a few hours I was done. I connected with the characters. That alone tells me that it is a great read.
Five out of five stars Randy. Getting and keeping me to the end of your book is an accomplishment you can take pride in. Driving Crazy is a must read if you want a fun time mixed with excitement and tons of laughs.
Review from "Big Badge V" (center in the photo) the mastermind behind Bikers 4 Books: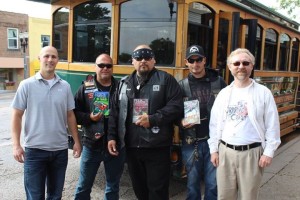 Randy Pearson has written this hysterically funny book about a cross country trip across America with his right hand man to pick up a old school video game. Randy shares so many of their highs and lows along the way. There were times that I couldn't believe their misfortune. I couldn't help but to find parallels with Charlie Browns bad luck.
I loved Randy's robust descriptions and colorful details. His usage of adjectives were masterfully done.
One of my favorite things about reading Michigan authors are there references to local landmarks. By Randy's descriptions, I could visualize myself right with these two guys. He jogged so many memories from growing up in and around Lansing. I spent a lot of time at Pinball Petes, myself !!!
There is even a chapter about bikers !!!
Man O Man……let me tell you, if you are in the mood for a great, funny and light read, may I suggest Driving Crazy by Randy Pearson.
I'm also proud to announce that Randy and Bikers for Books got to work together at Leather for Libraries where we collected new books for MSU Pediatric Oncology and Pulmonary Clinics.
Big Badge V – Bikers for Books
Review in the UK magazine Retro Gamer: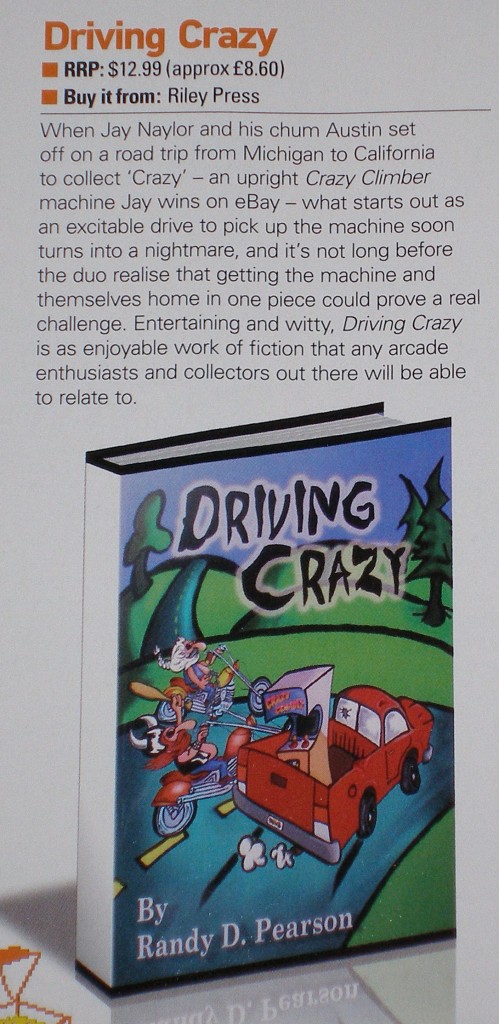 ---
Ray Walsh • For the Lansing State Journal • May 2, 2010
"Driving Crazy" by Lansing author Randy D. Pearson (Riley Press, $12.99) is an unusual, entertaining debut by a talented writer.
Click here to read the entire Lansing State Journal review by Ray Walsh
---
Review from AtariAge member Cebus Capucinis:
I picked it up last night and started reading and stayed up until 2:30 AM to finish it. Once you start it you can't put it down! Very good book!
This book is absolutely perfect for anyone who is a video game enthusiast. The main character, Jay, is not necessarily the "Everyman" in the sense that there is a conscious effort to make him appeal to every single reader of the book, but when you start reading through the adventure, you will almost immediately associate with him on so many levels. Having just gone on a somewhat wacky 2-day straight adventure about a month ago to get my arcade games, I couldn't help but laugh when thinking about the scheme he and Austin, his best friend, come up with — and I guarantee you that everyone that reads this book that has any interest in arcade gaming or even video gaming will instantly think of a time when either you did something just as crazy or thought about doing something just as crazy.
At multiple times throughout the book I found myself laughing out loud — something that very few books manage to make me do. The very beginning is hilarious, and not to give too many details away, but quite a few of their pit-stops turn into some very rowdy and laugh-worthy adventures. The whole journey rides that perfect border line between "that's just too crazy to believe" and "wow, this totally could have happened to someone". You will be staring at the text wide-eyed in disbelief but at the same time wondering if the book is biographical in any sense. Of course after wondering for a couple seconds you'll clearly want to keep going to see what happens next!
My favorite parts were the fruit department manager in the grocery store and the "Pork gout". :thumbsup: This book is lighthearted, fun, and a very great read! There's something for everyone in it. If you're not just interested in laughs, the book does get a little deeper (but not so deep as to get lost in the themes) into the themes of our own lives: taking time to enjoy the world we're in and not getting bogged down with our everyday lives. The book touches on what friendship truly means and what it really is to be Driving Crazy.
Pick up a copy! You seriously will not regret any of this book and you probably won't be able to put it down, having to read it in one go like I did!
---
Amazon.com reviews (from the self-published eBook version):
5.0 out of 5 stars Awesome! December 30, 2014
By Julie Reed
I have read many works by Randy, this is by far my favorite. He is extremely talented and it shows in this book. Its entertaining from start to finish.
5.0 out of 5 stars Awesome Novel! October 5, 2011
By Carolyn
Driving Crazy is an awesome novel. This story would make an entertaining motion picture. Video gamers and non-enthusiasts alike will enjoy this modern odyssey, which provided hours of entertainment reminiscent of childhood days and Louis L'Amour…in that it is an action tale full of bumps, grinding halts and surprising twists and turns. Randy Pearson is a witty, entertaining writer. Hopefully he will share more tales.
5.0 out of 5 stars Outstanding Book! September 4, 2011
By Jaysmith2000
Fantastic book for any video game fan. Randy does a wonderful job keeping you entertained from start to finish. It brings back plenty of childhood memories for me. A truly enjoyable read that should be made into a movie!
5.0 out of 5 stars Video Game Enthusiast Must Read September 2, 2011
By Mr. L. D. Chapman
I thoroughly enjoyed this novel. If you are a video game enthusiast then this is a must read in my opinion. Good work Randy!